The Soul, Role and Goal of Life™
Pathways Plus Package
Christine Kloser,

Founder, "Conscious Business Circle"

Mitch is a conscious leader who is changing the game of business. His Soul, Role, Goal model will shift the way people play and win the game of life.
Dr. Max Vogt,

Psychiatrist - Business Coach

Soul Role Goal is one of the greatest ways to describe the human condition and what to do about it. Your work has profoundly elevated my business and impacted my life.
Mitch Axelrod Presents...
The Soul, Role, Goal
of Business, Money and Life™
Values and Business: How do you bring values to the people you serve? Are you bringing all the value that you can? How can you show your customers you are their "Trusted Voice of Choice?"
Values and Money: How do you bring your own perception of your value to the marketplace? Are you getting paid what you are worth and if not what is holding you back?
Values and Coaching: Whether you are a coach, or are the "player" being coached, your performance and satisfaction will go up by understanding the value of coach-ability.
Values and You: Are you living congruent with your values and communicating that to other people? This awareness will make a big difference for you and your relationships.
"So Long Soul Frustration, Hello Flow!"
How to eliminate frustration
and get into the flow of life.
Part 1 - Goodbye Goal Frustration: Do you feel you are not where you want to be, should be or ought to be? Are you so focused on the destination you don't enjoy the journey? Say goodbye goal frustration. Close the gap between here and there.
Part 2 - Relieve Role Frustration: Are you doing what you value and valuing what you do? Are you doing what you don't enjoy or feeling trapped in a role that doesn't fit you? Relieve your role frustration. Do what you love and love what you do.
Part 3 - So Long Soul Frustration: Are you not feeling fully expressed in your life? Are your goals and your roles aligned with your soul? Are you ready for a more soulful, role full and goal filled life? It's time to say so long soul frustration, hello flow.
Finding True North…Fulfilling Your Value in Everyday Life
Mitch Axelrod Interviews Wayne Carpenter. Wayne is a student of Robert Hartman who pioneered Axiology, the study of human values. We talk about how Dr. Hartman "cracked the code" to actually measure human value.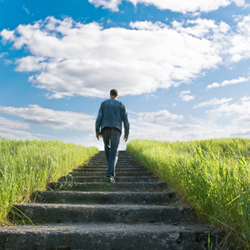 Personal Pathways Profile
This award winning tool will take you only 15 minutes to complete. You will receive a 15 page Personal Pathways value profile report that will identify your current sources of flow and interference. It will be your personal value's action guide to bring your best to the game you play.
After you receive and review your profile, you will listen to a recording, "Your Personal Pathways Decoded" where Mitch Axelrod explains how to interpret your pathways report and use it as your game plan in every day life.
You will then listen to another recording of a profile coaching and feedback session, "Axiology and the Value Profile…How to Bring Your Highest and Best to the Games You Play".
You will understand and discover how to:
Develop your best strengths and use them to produce powerful results
Identify your biggest sources of interference and avoid them getting in the way
Eliminate Soul, Role and Goal frustration and reduce conflict in your daily routine
Reduce wasted effort by directing you to the highest payoff activities
Determine exactly which skills and talents you can best leverage into greater success
Match your personal and unique values to your work to get more satisfaction, fulfillment and productivity
Remove the blocks that can and will interfere with building your own business
Analyze your own "mental programming" and harness it for your benefit
Pathways Plus and Bonus Audios
Click below to get the Pathways Plus and bonus audios. Pay using PayPal or any major credit card. (Your credit card will show a charge from "AXELRODASSO").
NOTE: If you wish to purchase 10 or more profiles please contact us at help@thenewgameprofiles.com for special quantity pricing.
Vickie Sullivan,

President - Sullivan Speaker Services, Inc.

I thought I saw it all before BUT… taking the Value Profile was quite an eye opener. Thank you for one of the most helpful and positive experiences I've had in my career. I'll be able to use this roadmap forever.

While it's one thing to see my strengths and weaknesses, it's quite another to see how they translate into my everyday habits and thought patterns. Because of the Value Profile, and your coaching, I know I have designed my entire business around my values. I also know how to change my thinking, and get to the next level, and the next level after that.

You can share this letter with others, and tell them that if they want to jump to higher levels of personal satisfaction, professional performance and business success, I highly recommend they take advantage of your "real" life skills coaching. It is one of the best investments I ever made - one that will pay off for the rest of my life.
Raleigh Pinsky,

Author - The Zen of Hype, 101 Ways to Promote Yourself

Where has this been all these years?

Nothing I've ever done gave me so much with such little effort on my part.  It took me 15 minutes to complete, and I got back a lifetime's worth of value.

If you're serious about increasing your personal worth and market value, having more satisfaction with your work and enthusiasm for life, you simply should take a few minutes and do this right now.  You will get incredible insights, and hundreds, no, thousands of times the financial return.

I can't begin to measure the personal intrinsic reward.  I wish I would have know about this sooner.  My life would have been greatly enhanced.
Dr. Rob Gilbert,

Sports Psychologist, Speaker, Author, Professor

Totally, totally mesmerizing. You were absolutely fabulous. I could have stayed with you for another six hours. My area is sports psychology. You talked about flow better than just about anybody I've ever heard. It wasn't just informational. It was transformational. You are incredibly sharing. It was one of the best lectures of any type I have ever heard in my life. Thank you so much.
Ken McArthur,

Bestselling Author, Filmmaker, Producer

If you ever want to know how your values affect your life, touch base with the amazing Mitch Axelrod. Mitch is a master of Axiometrics and reading your value profile. He recently gave some powerful insights to members of my Impact Platinum Mastermind. If you want to be really clear on the ways you make decisions or what your motivations are Mitch Axelrod can definitely help.